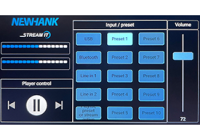 NewHank now offers seamless interaction with the Xilica Platform and Plug and Play scripts for some of the current and new products.
For example, our custom driver for the NewHank Stream IT .
There are 10 free presets to program for calling e.g. Internet radio stations or playlists made from music available in the local network.
MP3 files stored on a USB stick or external hard drive can also be played via the USB port.